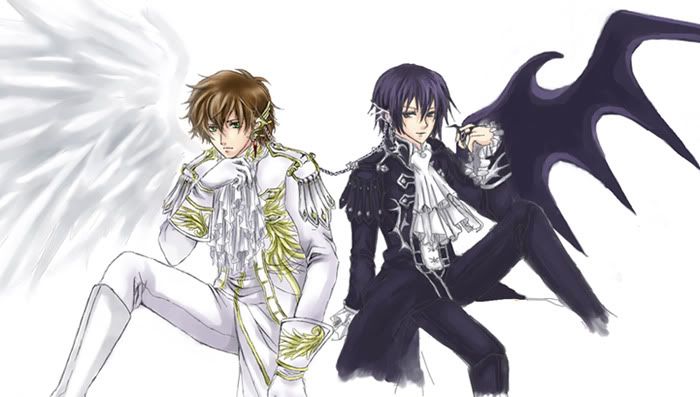 Suzaku: Flamemoon
Lelouch: me

Had to crop it for the post since it's too wide... lol.

1) the insane idea to draw this in PCHAT = pain
2) ...3rd time drawing this outfit = pain
3) Have not pchat for months / tablet pressure didn't work & I was too scared to log out/ back in in case pchat won't load for me.... = PAIN

Lastly...

It seems my life will never be free of Geass. LOL.

---
Life update

- A permanent position came up at the place I'm working. Interview freaked' over and done.
- Cosplay plans done for the year... I think? May make a post later XD
- Have produced no work since SMASH....... Am hoping to work on this during summer when cosplay slows down??? XD Though my computer don't like working in the heat either orz
- It's hot. It's suppose to be raining over Christmas. It's not.

---

Fandom status:

Reborn
- 10069. Nope, no change, except with the addiction of love for the Funeral Wreaths and liking the idea of 10069X and 10069GH
- MUKURO'S WHOREBOOTS.
- MUKURO AND FRAN. THE CUTEST SHISHOU & DESHI RELATIONSHIP EVER. KYAAAAAAAAAAAAAAAA.
- Ch271, pg 16. MMMMM.
- .... /becomes the first & only person with a fond hatredforYuni. I don't know, hatred turned into love for Shou-chan, so maybe she was there to balance it out.
- Increased love for Kokuyo, particularly MM. Again, against the main fandom of people condemning her for slapping Chrome.. who, after 200+ chapters, is still just standing there looking moe.


Darker than Black 2: Ryuusei no gemini
- Despite the annoying brat as the main protagonist. Season 2 is still a FFFING WIN.



- Adorable July is truly adorable.
- WHERE'S YINNNNNNNNNNNNNNNNN.

Kara no kyoukai
- recently rewatched the whole thing, and still loved it.
For those unfamiliar, the original is a light novel series by the Type-Moon team.. before Type-moon was formed. Settings and character designs formed the basis for the latter Tsukihime. The novels were adapted into 7 anime films, spanning over 2 years. Amazing animation teamed with Yuki Kajiura OSTs... I wish more anime were made this way =P



- MMMM blood. tempting to cosplay lol. Though for some reasons, even after rewatching, I'm not as attached to Shiki as I do to other Type-Moon heroines like Arcueid or Saber =P